'What's that, now?'
you may be asking yourself.
I first saw a Swedish Mora Clock in a blogger's house pictures and I fell in love with the feminine shape and interesting curves.
Pic from The Nester
When I bought my cottage, I knew I wanted to get a Mora Clock of my own. I googled around and found this cutie:
Ebay
I looked at the price tag and decided to wait until one went on sale.
Well, it turned out that close-to-400-bucks
WAS
the sale.
So, I kept looking and found this: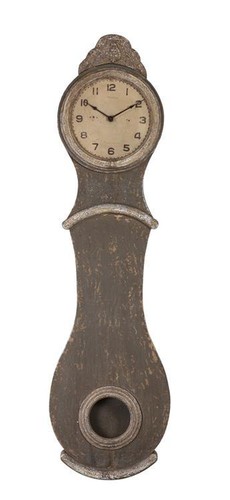 eBay
It is a reproduction and made for hanging on the wall instead of standing, but hey! Gotta cut corners somewhere to get the right price tag of $160. It looks a little more green-gray in person than the gray-green pic, but I really like it. It has delicate, dainty curves and a pretty distressed finish. I can't wait to hang it in my new house. You know, the one for which I still need to pick a white wall color?
At least I have the important things done,
amiright?